Dan Archer Medical designs, manufactures & supplies a range of ultra-comfortable, cost-effective, specialist orthotic footwear which incorporates the latest technology. Our premium brand name is Foot Bio-Tec. Our professionally designed orthotic footwear fundamentally helps address almost all of the underlying causes that lead to poor biomechanics. This is accomplished by supporting and realigning the foot structure and redistributing the body's weight on the feet.
Studies have proven that a great majority of foot & lower limb conditions can be treated equally successfully by EITHER professionally designed & affordable over-the-counter orthotics OR expensive custom made orthotics. An independent trial conducted by the discipline of Podiatry in the Faculty of Health and Medicine of the University of Newcastle investigated the effect of thongs with a moulded foot bed in people with foot pain. The trial, using Foot Bio-Tec orthotic thongs, reported that the footwear had a significant effect on reducing foot pain and improving foot function.
Dan Archer Medical is also committed to improving the public knowledge and understanding of the benefits of wearing wearing professionally designed orthotic footwear.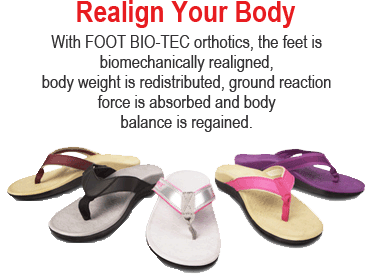 Dan Archer Medical orthotic footwear can be dispensed directly by health practitioners to their clients.
Dan Archer Medical also seeks to directly educate the public in self-assessment skills to facilitate their understanding & purchase of over-the-counter orthoses.
Dan Archer Medical continues to work enthusiastically for the future of your health.
Dr Vivienne Chuter and her members of the team at The University of Newcastle presented a report at the Sports Medicine Australia Conference held on the Gold Coast on 21 – 24 October, 2015.
In their presentation, Foot Bio-Tec Orthotic footwear was reported to significantly reduce foot pains, greatly improve foot function & markedly increase user comfort.